oiran
culture:
Rhi and I went to see Tori Amos in Atlanta this past week. Her most recent album,
Night of Hunters
, is based on classical pieces and so she's touring with a string quartet (the Apollon Musagète Quartett) instead of her usual band. While it was nice to hear the new songs, what I enjoyed most was hearing some of her older songs arranged for strings - this recording of
Cruel
with jittery, percussive strings is a good example of what the quartet was able to add. As is usual for a Tori show, I had strong emotional reactions to the music (i.e., copious tears). The setlist and video of most of the songs (albeit of variable quality) is
here
. Here's additional video of the
quartet's encore piece
played without Tori for my own reference.
The next morning, we went to the High Museum of Art and saw
Picasso to Warhol
. It's a selection of works from 14 "modern masters" including two of my favorites, Marcel Duchamp and Jasper Johns. This exhibition was apparently put together especially for the High from the collections at MoMA. Most of the works were familiar to me from reproductions but, other than the Duchamps and Romare Bearden stuff, I think I was seeing all of it in the flesh for the first time. Out of 14, Louise Bourgeois was the only woman represented and probably the artist whose work I was least familiar with. I can't say I
like
her art, but it was interesting. Prints of unhappy anthropomorphic architectures; drawings of hairy, pod-like forms with cysts; and a couple of vertically-oriented crude sculptures, one with a distinct resemblance to an IKEA CD storage tower. We were a little pressed for time and managed to somehow entirely miss the room with the Calder sculptures.
My favorite pieces from the show were:
Jasper Johns'
Summer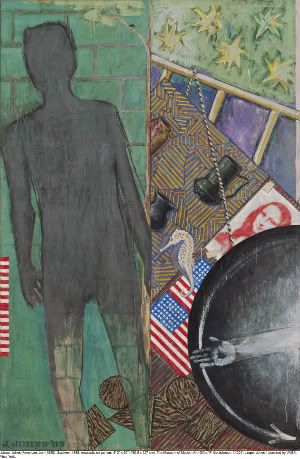 Romare Bearden's
Patchwork Quilt
and Marcel Duchamp's
Boite en Valise
.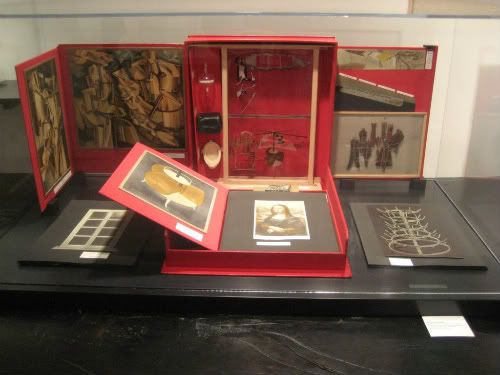 dress:
The search for a dress-up (but not too dressy) outfit continues. The Mr. and I braved the weekend crowds and went to the nice mall. I did finally buy a dress, but I wasn't thrilled about it at the time, and now that I have it home, I kind of hate it. It's a boring black sack (with cute-ish sleeves) that makes me look dumpy. It also cost $170, which is not the kind of money I want to spend on a dress I'm not enthusiastic about. When I can face going to the mall again, I'll take it back. I think I'm going to end up wearing a dress I bought 20 years ago that is fairly festive, is (maybe) timeless, and also looks good on me.